Small-Cap Stocks: Things to Consider Now
Cambiar Small Cap Portfolio Managers Andy Baumbusch and Colin Dunn answer a few questions about the state of small-cap stocks.
What has been going on with Small Cap stocks over the last few years?
Andy: While small-cap stocks have outperformed their large-cap counterparts by over 100% on a cumulative basis over the last 20 years, this trend has reversed more recently.  As of 9.30.19, the rolling 3-year performance gap (~5% annualized) between the Russell 2000 and the Russell 1000 indices is the widest over the past two decades.  The last time we saw a gap that surpassed even the 4% threshold, small-cap stocks outperformed large caps by over 1200bps over the following 12 months (source: Morningstar).
As co-managers of the Cambiar Small Cap Value portfolio, we note the divergence and see a number of considerations for existing and prospective clients to mull.
How has recent relative underperformance influenced Small Cap Valuations?
Colin: Relative to large-cap, small-cap stocks appear attractively valued, and though absolute small-cap valuations have compressed vs. late 2017 peaks, they stand slightly above historic averages on metrics such as P/E and P/B.  Small-cap stocks are not alone in this regard, as equities across the market cap spectrum (and many other asset classes) are valued at the upper end of their historical ranges.  We believe the elevated multiples for equities are partially attributable to the persisting generationally low discount/fixed income rates.
Barra Earnings Yield Factor
The Earnings Yield Factor is a value proxy that incorporates a number of valuation ratios:
Earnings/Price
Cash Earnings/Price
EBITDA/EV
On this basis, Small Cap stocks are at their cheapest point relative to Large Cap since 2003.
What is critical for investors to consider – given where we are in the current market cycle?
The universe of quality stocks has been winnowed substantially and must be evaluated with appropriate fundamental research care.
Andy: While we are only ever fully able to grasp point in cycle in hindsight, Cambiar is cautious on the remaining duration of this U.S. economic and credit expansion – particularly given the combination of historically high aggregate debt levels (corporate and sovereign) and a deceleration in economic growth.  The rising tide environment that has been in place for much of the past ten years effectively placed a low premium on security selection.  Yet we believe that selectivity will be paramount moving forward.  Within the small-cap asset class, the median long-term debt-to-capital level has been steadily increasing since the Great Financial Crisis and is currently at its highest point in 20 years. In addition, approximately 37% of Russell 2000 constituents have no earnings – another high watermark for non-recession periods.  Of the remaining 60+% "earners", valuations in many cases are in fact that much higher – the universe of quality has been winnowed substantially, and must be evaluated with appropriate fundamental research care.  Given this collective backdrop, adopting a passive approach to achieving small-cap exposure would seem particularly ill-considered.
Any final thoughts?
Colin: On balance, Cambiar believes the small-cap asset class may be poised to experience a period of relative outperformance vs. large-cap peers, and such exposure is better achieved via active management than passive alternatives.  The attributes that accompany active management – significant vigilance, a bias toward a selective, well-researched basket of stocks that have demonstrated the ability to navigate both positive and negative economic growth scenarios, consistent financial returns – should take on renewed importance in the coming years.  Above average profitability, supported by market position, persistent cash flow and low leverage are longstanding criteria for the companies that comprise the Cambiar Small Cap Value portfolio and remain that which we continue to target.
Portfolio Managers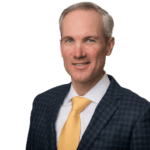 Andrew P. Baumbusch
Andy Baumbusch is an Investment Principal at Cambiar Investors. In addition to his research responsibilities, Andy also serves as Co-Portfolio…
Colin M. Dunn, CFA
Colin Dunn is an Investment Principal at Cambiar Investors.  In addition to his research responsibilities, Colin also serves as Co-Portfolio…
Enjoy our content? Please follow.
Disclosures
Certain information contained in this communication constitutes "forward-looking statements", which are based on Cambiar's beliefs, as well as certain assumptions concerning future events, using information currently available to Cambiar.  Due to market risk and uncertainties, actual events, results or performance may differ materially from that reflected or contemplated in such forward-looking statements.  The information provided is not intended to be, and should not be construed as, investment, legal or tax advice.  Nothing contained herein should be construed as a recommendation or endorsement to buy or sell any security, investment or portfolio allocation. 
Any characteristics included are for illustrative purposes and accordingly, no assumptions or comparisons should be made based upon these ratios. Statistics/charts may be based upon third-party sources that are deemed reliable; however, Cambiar does not guarantee its accuracy or completeness.  As with any investments, there are risks to be considered.  Past performance is no indication of future results.  All material is provided for informational purposes only and there is no guarantee that any opinions expressed herein will be valid beyond the date of this communication. 
MSCI is the source and owner of the MSCI Index data contained or reflected in this material.  MSCI makes no express or implied warranties or representations and shall have no liability whatsoever with respect to any MSCI data contained herein. The MSCI data may not be further redistributed or used to create indices or financial products. This report is not approved or produced by MSCI.
Russell 1000 Index: The Russell 1000® Index is a float-adjusted, market capitalization-weighted index that measures the performance of the 1,000 largest companies in the Russell 3000® Index, which consists of 3,000 of the largest U.S. equities.
Russell 2000 Index: The Russell 2000® Index is a float-adjusted, market capitalization-weighted index that measures the performance of the 2,000 smallest companies in the Russell 3000® Index, which consists of 3,000 of the largest U.S. equities.